Today, we're releasing some special puzzles for The Baffler! as part of the Multilevel Madness suite.
As you know by now, Chris is excellent at creating unique, challenging puzzles that are all cut and painted by hand. What attracted us here at Twenty Sided Planet to his work, however, was the multilevel puzzles he makes – this is something we haven't seen anywhere else.
For example, back before we began work on the app, our lead developer purchased a puzzle called Arc Link from Chris. Here's a picture: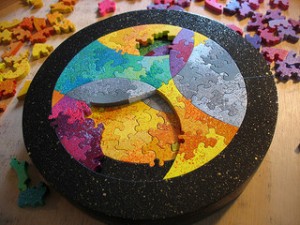 As you can see from the picture, this puzzle actually has multiple levels – four, in this case. This increases the difficulty significantly, as you can imagine!
When we set out to recreate the experience of solving The Baffler! for the iPad, one of our goals was to make sure we could handle these multilevel puzzles. We think they work pretty well.
Be ready to be challenged – some of the puzzles in this suite have nearly 200 pieces! Our tester took almost three hours to solve Arc Link, for example – and that's with the actual puzzle sitting right next to him.
Get Multilevel Madness today and put your puzzle solving skills to the test!